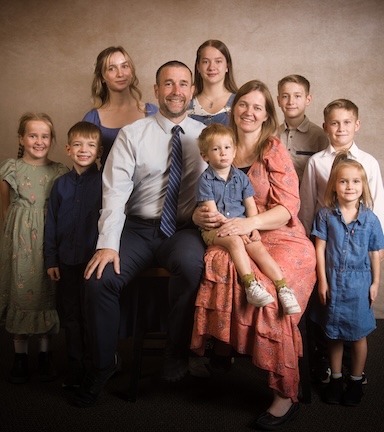 Pastor Steven Anderson was born and raised in Sacramento, CA. At age 18, he travelled throughout Germany and Eastern Europe for 3 months serving in local independent Baptist churches, studying foreign languages, and getting experience in the ministry. It was on this trip that he met his future wife, Zsuzsanna, while out soul-winning in the streets of Munich, Bavaria. He eventually lead her to the Lord, and they were married shortly thereafter. They have been married for over 15 years, and God has blessed them with 8 beautiful children.
Pastor Anderson started Faithful Word Baptist Church on December 25, 2005. He holds no college degree but has well over 140 chapters of the Bible memorized word-for-word, including approximately half of the New Testament. Today, most Baptist churches are started by Bible colleges. However, the Bible makes it clear that the church is the pillar and ground of the truth, not a school. Faithful Word Baptist Church is a totally independent Baptist church, and Pastor Anderson was sent out by a totally independent Baptist church to start it the old-fashioned way by knocking doors and winning souls to Christ.
God has blessed Faithful Word Baptist Church tremendously. Thousands have been saved, many have been
baptized
, and many more have learned to win souls both door-to-door and in their daily lives.
Click here for Pastor Anderson's Wife's Blog!
Pastor Anderson on social networking sites: